This is our list so far of 95 Famous Jacks, nominated by you: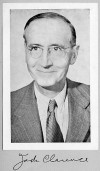 Jack Clarence (see left)
One of three esteemed gentlemen who developed the Betty's Bay area way back when..
John F. Kennedy
Known as Jack, this United States President was a famous friend of Marilyn Monroe and died far too young.
Jack Newark
A Private in the Royal East Kent Regiment ("The Buffs"); 3rd Regiment of Foot; 1st British Army.
David's father; died peacefully in 2013 at the age of 93.
..nominated by Delboy Newark, Croatia
Jack Nicklaus
Also known as "The Golden Bear", he is one of the most successful professional golfers of all time
Jack Nicholson
Versatile actor – sometimes scary and often funny
Jack and the Beanstalk
Boy who owned a cow and ultimately killed a giant
Jack Daniels
Put Lynchburg, Tennessee on the map
Jackass Penguin
Our neighbours at Stoney Point in Betty's Bay, whose proper name is the African Penguin.
Jack and Jill
Characters from a nursery rhyme that was created when King Charles I of England scaled down the 'jack' (a two-ounce measure of drink) so as to collect higher sales taxes, the jill, by definition twice the size of the jack, was automatically reduced also and 'came tumbling after
Jumpin Jack Flash
It's a gas…….so say Mick and the boys
Jack Frost
The personification of crisp, cold winter weather
Jack the Ripper
Victorian England's most notorious serial killer
Calico Jack
Captain John Rackham, an English pirate who popularised the 'Jolly Roger' flag of a skull and two crossed cutlasses
Jack Russell
A small terrier with a huge personality
Jack Russell
Rather good former England wicket keeper
Black Jack
… also known as 'twenty-one', 'vingt-et-un' and 'pontoon' is the most widely played casino banking game in the world
Jack Charlton
Lesser and more violent brother of Bobby Charlton
Jack Benny
One of the leading American entertainers of the 20th century
Jack of all trades, master of none
A figure of speech used in reference to a generalist; a person that is competent with many skills but is not outstanding in any particular one
..nominated by Monet Meyer, South Africa
Captain Jack Sparrow
Probably the most handsome pirate ever; a character in the movie 'Pirates of the Caribbean' played by Johnny Depp!
..nominated by Freddie Stier, Greece
Jack Johnson
Jack Hody Johnson (born May 18, 1975) is a Hawaiian singer-songwriter, musician, filmmaker, and surfer, known for his work in the soft rock genre. He achieved commercial success after the release of his debut album, Brushfire Fairytales in 2001. He has since released five more albums and a number of EPs.
..nominated by Tertia de Kock, South Africa
Jack Sprat
'Jack Sprat could eat no fat
His wife could eat no lean
And so betwixt the two of them
They licked the platter clean'
The Jack Sprat alluded to in this English poem is reputed to be King Charles I (1625-1649) and Henrietta Maria, his Queen (1609-1669). Apparently, when King Charles declared war on Spain, parliament refused to finance him (leaving him lean!) So his wife imposed an illegal war tax (to get some fat!) after the angered King dissolved Parliament.
..nominated by Gil Adams, Luxembourg plus Clare & Chris Docking, South Africa
Jack London
American Author – famous for writing Call of the Wild, White Fang and Sea Wolf
..nominated by Sandra Faulkner, Northern Ireland and Freddie Stier, Greece
Jack in a box
Children's toy
..nominated by Tim Bracey, UK
Jack Lemmon
Academy Award Winning American Actor
..nominated by Stephen Usendorff, South Africa
Jack Kent Cooke
Famous Canadian entrepreneur who owned the Washington Redskins American football team in the '70s and '80s winning the Super Bowl in '83,'88 &'92.
..nominated by Rob Campbell, France
Jack White
Jack White (born John Anthony Gillis; July 9, 1975), often credited as Jack White III, is an American musician, record producer and occasional actor, best known as the guitarist and lead vocalist for The White Stripes.
..nominated by Cat de Jonge, UK
Jack Brabham (Sir John Arthur 'Jack' Brabham, AO, OBE)
An Australian former racing driver who was Formula One champion in 1959, 1960 and 1966. He was a founder of the Brabham racing team and race car constructor that bore his name,
..nominated by Peter Nettlefold, South Africa
Jack-o'-lantern
Sometimes also spelled Jack O'Lantern is typically a carved pumpkin. It is associated chiefly with the holiday Halloween, and was named after the phenomenon of strange light flickering over peat bogs.
..nominated by Peter Nettlefold, South Africa
Jack Jones
60's crooner, loved by Sue's Mum (proved by poster on inside bedroom door when Sue was a kid)
..nominated by Sue Giddings, South Africa
Jack Jones
James Larkin Jones, CH, MBE, known as Jack Jones, was a British trade union leader and General Secretary of the Transport and General Workers' Union in the 60's and 70's.
..nominated by Boris A Hound, Utopia
Jack Straw
John Whitaker Straw (born 3 August 1946), most commonly known as Jack Straw, is a senior British Labour Party politician. On 28 June 2007 he was appointed to the offices of Lords High Chancellor of Great Britain and Secretary of State for Justice.
..nominated by Peter Nettlefold, South Africa
Jack Palance
An American film actor of Ukrainian descent. With his rugged facial features, Palance was best known to modern movie audiences as both the characters of Curly and Duke in the two City Slickers movies, the first for which he won the Academy Award for Best Supporting Actor, but his career spanned half a century of film and television appearances. He died in 2006,
..nominated by Hani Naiyesh, South Africa
Jack Dempsey
Known as the "Manassa Mauler", Jack was an American boxer who held the world heavyweight title from 1919 to 1926. Dempsey's aggressive style and punching power made him one of the most popular boxers in history. Many of his fights set financial and attendance records.
..nominated by Derek Newark, Croatia
Jackanory
Or Jack a Nory, Is a long-running BBC children's television series that was designed to stimulate an interest in reading. The show was first aired on 13 December 1965 and continued to be broadcast until 24 March 1996.
The title of the show comes from an old English nursery rhyme first recorded in a book in 1760.
I'll tell you a story
About Jack a Nory;
And now my story's begun;
I'll tell you another
Of Jack and his brother,
And now my story is done.
..nominated by Simon Davies, UK
Major Trevor Jack Thornton MC
Born in 1918 and known as Jack as his father was also Trevor, Major Thornton won the Military Cross at Monte Cassino in Italy during the Second World War. By profession he was a civil engineer and after the war he built roads in the then Rhodesia, in the Congo and Malawi until 1971. He then farmed in Rhodesia / Zimbabwe until 1988. He died in Norfolk, England in 2008 a few weeks before his 90th birthday
..nominated by his son John Thornton, South Africa
Four Jacks and a Jill
Four Jacks and a Jill are a folk rock ensemble from South Africa. They had originally formed without lead singer "Jill" (Glenys Lynne) in 1964 under a different name. In South Africa, they had a hit called "Timothy", and in 1968 they cracked the American charts, with the tune "Master Jack. Their follow-up single, "Mr. Nico", peaked at #98 in America; it was their last hit in the States, but the group continued to score hits in their native country.
They have recently recorded and produced albums for a range of sing-a-long educational story books for various South African charities.
..nominated by Andre Heiberg, South Africa
Jack, a dull boy
"All work and no play makes Jack a dull boy" is a proverb. Its meaning is that without time off from work, a person becomes bored and boring.
The sentiment expressed by this proverb was first recorded thousands of years ago by the Egyptian sage Ptahhotep, who wrote in 2400 B.C., "One that reckons accounts all the day passes not a happy moment"
The more familiar modern saying appeared first in James Howell's Proverbs in English, Italian, French and Spanish (1659).
..nominated by Andre Heiberg, South Africa
Jack of Diamonds, Hearts, Spades and Clubs
The playing card that we now know as Jack was once called Knave, meaning a male servant of royalty. It is placed between the 10 and Queen in the pack ranking and is the lowest 'court' card, the others being the Queen and King.
In 1864 Samuel Hart, an English card maker, published a deck using J instead of Kn in the corners of the cards, as the abbreviation for Knave (Kn) and King (K) was proving to be too similar and causing confusion when the cards were held fan-like in one hand.
..nominated by Andre Heiberg, South Africa
Jack van der Schyff
A big, running fullback who played provincial rugby for Griquas, Western Transvaal and Rhodesia.
His worst moment in rugby was captured in a photograph from in front of the posts showing the kicker in the foreground turning away, his head bowed in disappointment. In the photo the ball can be seen clearly to the left of the posts….it is going to miss the uprights. As a result the British Lions won the 1955 Ellis Park Test 23-22 and the kicker, Van der Schyff, faded from history, never to wear the green and gold jersey again.
..nominated by Andre Heiberg, South Africa
Brown Jack
Brown Jack (1924–1948) was a thoroughbred racehorse that raced over hurdles and then on the flat. He was a "stayer" – a horse specialising in longer races. He won the second Cheltenham Champion Hurdle in 1928, but his main claim to fame was winning the Queen Alexandra Stakes – the longest race in the flat racing calendar – for six years running, from 1929 to 1934. His repeated victories made him one of the most popular racehorses in the history of British racing
..nominated by Andre Heiberg, South Africa
Half-Jack
A 2 oz measure of liquid sustenance not much used these days, but can still be heard being ordered in the communities of the Western Cape, when life may not be going quite to plan
..nominated by David Smith, South Africa
Jack Kerouac
Jean Louis 'Jack' Kerouac was an American novelist and poet. Alongside William S. Burroughs and Allen Ginsberg, he is considered a pioneer of the Beat Generation, and a literary iconoclast. Kerouac is held as an important writer both for his spontaneous style and for his content which consistently dealt with such topics as jazz, promiscuity, Buddhism, drugs, poverty, and travel. Disenchanted with mainstream America and never having gotten over the death of his older brother when he was four years old, Kerouac lost his battle to alcoholism and died at the age of 47 in 1969
..nominated by Wynand du Plessis, South Africa
Jack Cohen
Founder of Jack's Paint 'Your Community Paint Store'. Now located in most provinces of South Africa, the original store was established in 1948 by Jack Cohen. Jack originally worked as a paint consultant for a major paint manufacturer and through his training and years of experience he decided to open his own store. The business is underpinned by a philosophy of offering the community a quality service, affordable paint and competent advice.
..nominated by Kevin Mattheys, South Africa
Bruce Jack
Chief Wine Maker at Flagstone Winery in the Western Cape. Flagstone is a small but frequently awarded winery with a selection of wines built around Bruce's philosophy of hand-crafted wine-making.
..nominated by anon
Jack Skellington
Jack is the lead character in the Disney film Tim Burton's 'The Nightmare Before Christmas', he is the "Pumpkin King" of Halloween and lives in a fictional world based solely on the holiday called Halloween. His usual appearance is a skeleton dressed in a black pin-striped suit and a bow tie resembling a bat, but there are some points in which he dresses as a scarecrow with a pumpkin for a head. His name is a pun on skeleton.
..nominated by Marysa, South Africa
Jack Bruce
John Symon Asher "Jack" Bruce (born 1943) is a Scottish musician, composer and singer. He is known as an electric bass guitarist and has been referred to as a "world-class pioneer in his main instrument; a composer of some of the most endurable and recognisable rock songs of our time; an accomplished classical, jazz and Latin musician and one of popular music's most distinctive and evocative voices."
He was famous as the vocalist, main composer and bass guitarist for the 1960s rock band Cream, and has worked constantly since then with some of the great names in the music world. In 2009 Bruce performed at the 50th Anniversary of Ronnie Scott's Club in London. After garnering good reviews three further dates at the club were added in March 2010.
..nominated by Neil Bernasconi, South Africa & UK
Jack Kramer
John Albert Kramer , born in 1921 was an American tennis player of the 1940s. A World Number 1 player for a number of years, he is a possible candidate for the title of the greatest tennis player of all time. He was considered the father and the leading promoter of the professional tennis tours. He was a relentless advocate for the establishment of Open Tennis between amateur and professional players.
…nominated by Paul Laver, UK
C.S. Lewis
Clive Staples Lewis commonly referred to as C. S. Lewis was an Irish-born British novelist, academic, medievalist, literary critic, essayist, lay theologian and Christian apologist.
He is well known for his fictional work, especially The Screwtape Letters, The Chronicles of Narnia and The Space Trilogy.
Throughout his life, Lewis was known to his family and friends as "Jack"—a nickname he coined for himself at the age of four after the beloved neighbourhood dog Jacksie died.
..nominated by Lionel M Roode, South Africa
Lt Colonel F. Chater Jack
A Major in the Royal Artillery during the early 1940's he was the commanding officer of the 19th Battery. As related in the first of Spike Milligan's war autobiographies "Adolf Hitler: My Part in His Downfall", Major Jack was a much respected leader by his men and Spike writes he was "one who I would have followed anywhere"
..nominated by Shaheed Chapple, South Africa
Captain Jack Harkness
Fictional character played by John Barrowman in the TV series 'Dr. Who' and its spin-off 'Torchwood'. Jack begins as a time traveller and former con-man from the 51st century and is the first openly non-heterosexual character in the history of televised Doctor Who.
.. nominated by Stephen Danks, UK
Jack Dee
James Andrew Innes "Jack" Dee is an English stand-up comedian, actor and writer known for his sardonic, curmudgeonly, and deadpan style.
..nominated by Stephen Danks, UK
Jack LaLanne
Francois Henri "Jack" LaLanne (born in 1914) was an American fitness, exercise, and nutritional expert and motivational speaker who is sometimes called "the godfather of fitness" and the "first fitness superhero".
During his career, he came to believe that the country's overall health depended on the health of its population, writing that "physical culture and nutrition — is the salvation of America."
..nominated by Darlene Walker
Jack Lord
John Joseph Patrick Ryan is best known by his stage name Jack Lord. He was an American television, film, and Broadway actor and widely remembered for his starring role as Steve McGarrett in the American television program Hawaii Five-O from 1968 to 1980. His famous catch-phrase was 'Book him Danno!'
..nominated by Jeff Perilloux
Jack Black
Thomas Jacob "Jack" Black is an American comedian, actor and musician. He makes up one half of the comedy and satirical rock duo Tenacious D. His acting career is extensive, starring primarily as bumbling, cocky, but internally self-conscious outsiders in comedy films.
..nominated by Cori
Jack Parr
Jack was an author, American radio and television comedian and talk show host, best known for his stint as host of The Tonight Show from 1957 to 1962
..nominated by Jennifer R
Jackie Paper
Puff, the Magic Dragon" is a song written by Leonard Lipton and Peter Yarrow, and made popular by Yarrow's group Peter, Paul and Mary in a 1963 recording. The song achieved great popularity.
The lyrics tell a story of the ageless dragon Puff and his playmate Jackie Paper, a little boy who grows up and loses interest in the imaginary adventures of childhood and leaves Puff alone and depressed
..nominated by Dan
Dr. Jack Shephard
A fictional character and protagonist of the ABC television series Lost played by Matthew Fox. Lost follows the journey of the survivors of Oceanic Airlines flight 815 on a mysterious island and their attempts to survive and escape, slowly uncovering more of the much broader island history of which they are a part.
..nominated by Lori K Martins
Jack Dawson
Fictional character in the film Titanic, played by Leonardo di Caprio. Within the film, Jack is portrayed as a penniless man from Chippewa Falls, Wisconsin who has toured various parts of the world. He wins two tickets onto the RMS Titanic in a poker game and travels as a third-class passenger with his friend Fabrizio. He is attracted to Rose at first sight and meets her when she attempts to throw herself off the stern of the ship. This enables him to mix with the first-class passengers for a night… and the rest is Oscar winning cinema.
..nominated by Shawna
Jack Tripper
A fictional character on the sitcoms Three's Company and Three's a Crowd, based upon the character, Robin Tripp from the UK TV series Man About the House and Robin's Nest. Jack was played by John Ritter.
..nominated by Paul Brown
Jack Swigert
John Leonard "Jack" Swigert, Jr. was a NASA astronaut, one of the 24 persons who have flown to the Moon. Swigert was one of three astronauts aboard the ill-fated Apollo 13 moon mission, which was launched on April 11, 1970. Swigert was the astronaut who made the famous dramatic announcement, "Houston, we've had a problem here". After leaving NASA, he was elected to the United States House of Representatives, but died before being sworn in.
..nominated by a bloke called Jack
Jack Davenport
An English actor, best known for his roles in the television series This Life, Coupling and as James Norrington in the Pirates of the Caribbean series. He has also appeared in many other Hollywood films such as The Talented Mr. Ripley. More recently, Davenport was part of the ensemble cast of characters in the drama series FlashForward and Smash
..nominated by the man himself (awesome)
Jack McGurn
"Machine Gun" Jack McGurn (1902 – 1936), born Vincenzo Antonio Gibaldi, was an Italian-American mobster and key member of Al Capone's Chicago Outfit.
Born in Licata, Sicily his family emigrated to the USA when he was a boy. McGurn grew up in the Chicago slums where he later took up a career in boxing as a teenager and changed his name to "Battling" Jack McGurn because boxers with Irish names got the better bookings.
As a youth, McGurn did not run in gang circles. However, when his father was assassinated by gang extortionists in 1923, he methodically avenged his father's death by killing the three hit-men responsible. This ruthless efficiency provided his introduction to Al Capone in late 1923. He was famous for leaving coins in his victims' hands.
Jack was allegedly involved in the planning of the St Valentine's Day Massacre but was never brought to trial due to his 'female blonde' alibi.
.. nominated by Shakey Veirs
Jack Hawkins
Colonel John Edward "Jack" Hawkins CBE was an English actor who worked on stage and in film from the 1930s through the 1970s.
Although he had appeared in several films during the 1930s, it was only after World War II that he began to build a successful career in the cinema ceasing to appear on the stage after 1951. He often played stern but sympathetic authority figures in films like Angels One Five, The Cruel Sea(the film that made him a star) and The Long Arm
..nominated by David Lewsey
Jack Kirby
Born Jacob Kurtzberg, he was an American comic book artist, writer and editor regarded by historians and fans as one of the major innovators and most influential creators in the comic book medium.
In 1940, he and writer-editor Joe Simon created the highly successful superhero character Captain America for Timely Comics, predecessor of Marvel Comics and then in 1960s, he and writer-editor Stan Lee co-created many of Marvel's major characters, including the Fantastic Four, the X-Men, and the Hulk.
..nominated by Reed Gill
Jackhammer
A jackhammer is a pneumatic tool that combines a hammer directly with a chisel that was invented by Charles Brady King. Hand-held jackhammers are typically powered by compressed air, but some use electric motors. Larger jackhammers, such as rig mounted hammers used on construction machinery, are usually hydraulically powered. They are usually used to break up rock, pavement, and concrete. In modern terminology, a "jackhammer" does not have the capacity to drill rock
..nominated by Bethany Frei
Jack the Giant Killer
This 'Jack' appears in an early Cornish fairy tale about a plucky lad who slays a number of giants during King Arthur's reign. Giants are prominent in Cornish folklore and Welsh Bardic lore. Some parallels to elements and incidents in Norse mythology have also been detected in the tale.
Neither Jack or his tale are referenced in English literature prior to the eighteenth century, and his story did not appear in print until 1711.
.. nominated by P Dalton
John Arthur ("Jack") Johnson
Nicknamed the "Galveston Giant," Jack was an American boxer who led a remarkable life as a black sportsman in a then overtly racially prejudiced United States.
In 1908 Johnson became the first African American world heavyweight boxing champion after defeating white boxer Tommy Burns. This was after many years of trying to fight outside of the coloured-only bouts as black and white boxers could meet in other competitions, but the world heavyweight championship was off limits to them.
His fight in 1910 against James J Jeffries (which he won) caused riots all over the United States as it had dashed white dreams of finding a "great white hope" to defeat him. Many whites felt humiliated by the defeat of Jeffries.
In a documentary about his life it is noted "for more than thirteen years, Jack Johnson was the most famous and the most notorious African-American on Earth."
He married three times and each time to a white woman.
He died in a car crash in 1946 after racing away from a diner that refused to serve him food. He was 68 years of age
.. nominated by Robert E Garvey, Canada
(I am indebted to Robert for introducing me to the story of this extraordinary man. Ed)
Jack Kevorkian
Born Jacob Kevorkian and commonly known as "Dr. Death", Jack was an American pathologist, euthanasia activist, painter, author, composer and instrumentalist. He is best known for publicly championing a terminal patient's right to die via physician-assisted suicide; he claimed to have assisted at least 130 patients to that end. He famously said, "dying is not a crime". he died in 2011 aged 83.
.. nominated by Cy
Jack Klugman
Jacob Joachim Klugman, born 1922 is an American stage, film and television actor. He is best known as Felix Unger's sloppy roommate Oscar Madison in the American television series The Odd Couple (1970-1975), for his starring role in Quincy, M.E. (1976-1983), and as Juror #5 in 12 Angry Men.
..nominated by Michelle
Cracker Jack
Cracker Jack is a U.S. brand of snack consisting of strong molasses-flavored candy-coated popcorn and peanuts, well known for being packaged with a prize of nominal value inside. Some food historians consider it the first junk food.
..nominated by Heather A
Jack Webb
John Randolph "Jack" Webb, also known by the pseudonym John Randolph, was an American actor, television producer, director and screenwriter, who is most famous for his role as Sergeant Joe Friday in the 1950s & 1960s radio and television series Dragnet.
..nominated by Craig London
Jack Taddei (Famous Jack in training)
He likes video games. He likes "boy's day" with his Dad. He loves his family including his sisters and Nutella & fluff sandwiches. He is very very considerate, kind & smart. He wants to be a famous zoologist when he grows up and someday he will be on the "Famous Jack's" list.
.. nominated by Ned Taddei
(We look forward to it: Give Jack our love and tell him to study hard. Ed)
Jack the lad
A UK slang term for an irresponsible young man, seeking personal pleasure without regard to responsibilities. A rogue, or even a bit of a geezer.
..nominated by Michael Breen
Jackie Chan
Jackie Chan, SBS, MBE (born Chan Kong-sang) is a Hong Kong actor, action choreographer, comedian, director, producer, martial artist, screenwriter, entrepreneur, singer, and stunt performer. In his movies, he is known for his acrobatic fighting style, comic timing, use of improvised weapons, and innovative stunts. He is one of the few actors that did all of his stunts in all of his films. Jackie Chan has been acting since the 1960s and has appeared in over 150 films.
..nominated by Dan
Union Jack
The Union Flag, commonly also known as the Union Jack, is the flag of the United Kingdom.
The origins of the flag date back to 1603, when James VI of Scotland inherited the English & Irish thrones, thereby uniting the crowns of England, Scotland and Ireland in a personal union. On 12 April 1606, a new flag to represent this regal union between England and Scotland was specified in a royal decree, according to which the flag of England (a red cross on a white background, known as St George's Cross), and the flag of Scotland (a white saltire on a blue background, known as the Saltire or St Andrew's Cross), would be joined together, forming the flag of Great Britain and first union flag.
The current design dates from the Union of Great Britain and Ireland in 1801.The flag combines aspects of three national flags: the red cross of Saint George, the red saltire of Saint Patrick's Flag, and the Flag of Scotland.
..nominated by Jo Fletcher, UK
Jack Dalton
Fictional character in the ABC television series MacGyver. He is played by Bruce McGill and appears in 19 episodes. Jack was usually responsible for getting both himself, and thus MacGyver into trouble, often due to his frequent get-rich-quick schemes. Dalton is known for always wearing a peaked aviator's cap.
..nominated by Gregg Yurchak
Samurai Jack
An American animated television series created for Cartoon Network. The series follows "Jack", a time-displaced samurai warrior, in his singular quest to find a method of traveling back in time and defeating the tyrannical demon Aku.
..nominated by Will Moran, USA
Jack Burton
Fictional hero seen in "Big Trouble in Little China". Released in 1986, this American martial arts comedy film was directed by John Carpenter. It stars Kurt Russell as truck driver Jack Burton, who helps his friend Wang Chi (Dennis Dun) rescue Wang's green-eyed fiancee (Suzee Pai) from bandits in San Francisco's Chinatown.
..nominated by Gregg Yurchak
Happy Jack
Founded in the U.S. in 1946 since which they have been manufacturing high quality, effective animal health products for dogs, cats and horses….Or so their website says…
..nominated by Mary
Jack Bauer
This fictional character played by Keifer Sutherland is the protagonist of the Fox television show 24. Bauer's job usually involves helping prevent major terrorist attacks on the United States, saving both civilian lives and government administrations. He is not a crooked agent, however Bauer's frequent use of torture to gather information has generated much controversy and discussion.
..nominated by Yasantha Rajartne
Jack in the Pulpit
Arisaema triphyllum, also known as Jack-in-the-Pulpit, Bog onion, Brown dragon, Indian turnip, Wake robin or Wild turnip, is a herbaceous perennial plant growing from a corm.. It is native to eastern North America, occurring in moist woodlands and thickets from Nova Scotia west to Minnesota, and south to southern Florida.
.. nominated by Terry Duncan
Jack Straw
Probably the same person as John Rakestraw or Rackstraw, he was one of the three leaders (together with John Ball and Wat Tyler) of the Peasants' Revolt of 1381, a major event in the history of England.
..nominated by Bill Dutton
Jack Ryan
A fictional CIA agent in some novels by Tom Clancy including Patriot Games and The Hunt for the Red October. The movie "Jack Ryan" based on the same character and directed by Kenneth Branagh is due for release in 2013.
..nominated by Richard Ryan and (his very own) Jack Ryan
Jack Reacher
Is a fictional character and the protagonist of a series of books by British author Jim Grant, who writes under the pen name of Lee Child. A feature film, Jack Reacher, was released on 21 December 2012
..nominated by J Lee, USA
Jack Hanna
John Bushnell "Jack" Hanna is an American zookeeper who is the Director Emeritus of the Columbus Zoo and Aquarium. His media appearances have made him one of the most notable animal experts in the United States. Hanna, nicknamed "Jungle Jack", is known for his khaki safari outfit, deep tan, and Southern accent.
..nominated by C Britton
David Jack
A Californian businessman in the 19th century who commercially sold a semi hard cheese, customarily of pale yellow color. It was made by the Mexican Franciscan friars of Monterey, California and it came to be known as "Jack's Cheese", and eventually "Monterey Jack". Now it is commonly sold by itself, or mixed with Colby to make a marbled cheese known as Colby-Jack (or Co-Jack). Cheddar-Jack varieties are also available.
..nominated by C Britton
Jack Coleman
John MacDonald "Jack" Coleman is an American actor and screenwriter, best known for replacing Al Corley in the role of Steven Carrington in the 1980s prime time soap opera Dynasty, and for portraying Noah Bennet in the science-fiction drama series Heroes
..nominated by C Britton
Jack Spicer
A self-proclaimed "Evil Boy Genius" and one of the main villains of Xiaolin Showdown, an American animated television series. . He is constantly building different types of robots, the most common of which is the Jack-Bot.
..nominated by Lexi Krainiak
Jack Wall
Born in 1964 Jack is an American video game music composer. He has worked on video game music for over 20 games including the Myst franchise, Splinter Cell, Jade Empire, Mass Effect, and Call of Duty.
..nominated by Laura Brown, Betty's Bay South Africa
Jack – Subject Zero
A character in the video game Mass Effect 2, she is the product of a Cerberus experiment to enhance human biotic ability. She is the most powerful human Biotic in the universe and was experimented on for most of her childhood life before she escaped into a life of crime. Later in life, she would assist Commander Shepard in his assault against the Collector Base. After leaving Shepard, she would become a teacher at Grissom Academy, helping to teach young Biotics how to control their powers and training them to be a Special Force. She and her students eventually assist Commander Shepard and The Alliance in their attempt to retake Earth from The Reapers.
..nominated by J. Futty
Jack Wild
A British actor best remembered for his performances in both stage and screen productions of the Lionel Bart musical Oliver! For this production he received an Academy Award nomination as Best Supporting Actor at the age of 16 for his role as The Artful Dodger. Like many child stars, Wild struggled to make the transition to adult stardom. At age 21 he was already an alcoholic and a diabetic. His alcoholism caused three cardiac arrests and resulted in several hospital stays until he stopped drinking in 1989. Wild later admitted his alcoholism was so debilitating during this period that from the late 1970s until he went sober, he was incapable of doing any kind of work. Wild died on 1 March 2006 at age 53 after a long battle with oral cancer caused by his drinking and smoking.
..nominated by Beth Brigg
Applejack
A female Earth pony and one of the main characters of My Little Pony Generation Four. She lives and works at Sweet Apple Acres with her grandmother Granny Smith. She represents the element of honesty. Applejack is dependable and loyal, always willing to help anybody in need.
..nominated by Walt Laurence
Apple Jack
Or The Legend of Apple Jack is a 2003 American short film directed by Mark Whiting, and produced by Tranquility Pictures. The filming was performed on Sable Ranch, Canyon Country, California. The film was released on DVD in August, 2006.
..nominated by Walt Laurence
Jack Churchill
Lieutenant Colonel John Malcolm Thorpe Fleming "Jack" Churchill, DSO & Bar, MC & Bar nicknamed Fighting Jack Churchill and Mad Jack, was a British soldier who fought throughout the Second World War armed with a longbow, and a Scottish sword (a basket-hilted claybeg commonly but incorrectly called a claymore).
He is known for the motto "any officer who goes into action without his sword is improperly dressed." Churchill also carried out the last recorded bow and arrow killing in action, shooting a German officer in 1940 in a French village.
..nominated by Ria Nijeboer, South Africa
So now you have read all those, why not send us your Famous Jack by email to: 'info@jacksbettysbay.co.za'